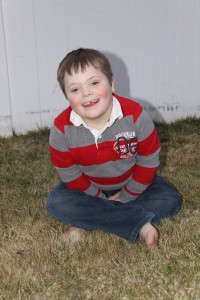 This morning, while Andy took Trevin to his soccer game (along with Emalee), Ashlyn and I headed over to the Stake Center for the annual Relief Society day of service.  I was in charge of running the homeless lunches (450 of them) last year so it was great to just "go" and "do" instead of plan and worry.  Mimi on the other hand was one of those that was in charge this year so I've tried to help support her as she helped me so much last year.
I started out helping with the homeless lunches again.  When we finished assembling the lunches, I helped on other projects.  Mimi, Ashlyn and I met up at lunch time at the potato bar.  One of the sisters at the next table had brought her newborn baby and let us hold, cuddle and fall in love with her little piece of heaven.  We all took turns holding him….not willingly, but took turns nonetheless.
By the time Ashlyn and I got home, Jaron had returned home from the Klondike overnighter with the Scouts.  He said he had a good time but it was pretty cold.  We finished off the evening by going to Spencer's 7th birthday party.  I can't believe my sweet newphew is seven years old.  I love that Spencer LOVES birthdays (his or anyone else's).  His favorite part is turning off the lights so he can blow out his candles.  Libby made a wonderful Mexican dinner and we all enjoyed each others company.  However, my mom had to stay home because she was feeling to sick.  Andy and John went over after the party to give her a priesthood blessing.  We hope she feels better soon!!