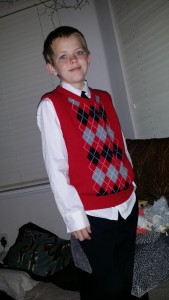 The day started early for sweet Trevin.  He got up at 5:30 this morning so he could be out the door by six.  He was hand selected by the principal to represent Vista Elementary at a Leader in Me Symposium.  I "think" he even slept in his dress clothes because he was so excited.
His school integrated the Leader in Me program three years ago.  Trevin was one of six children selected to greet guests from all around the world who came here to learn about this program.  Most are looking to adopt this program into their own schools.  He did a great job and really enjoyed himself.  When the bus arrived at his school (full of guests), he helped greet and welcome them, along with other children.  They did a program (run completely by the children) and helped their guests understand how this program has effected the entire school.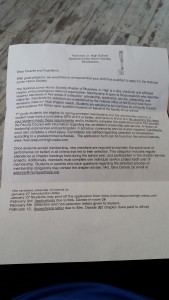 When Ashlyn got home from school, she presented me with this letter from her school.  It stated that Ashlyn is eligible to be a part of the National Honors Society.  She has a 3.9 grade point average and is VERY diligent in her attendance and work.  So proud of her!
Ashlyn and Trevin had their piano lessons today….Ashlyn had basketball practice with the Young Women.  I made dinner and even chocolate chip cookies for dessert.  Ashlyn was asked to bring a story from her family history tonight to Young Women (as part of their activity).  I wanted to include the complete story here for future reference (this is the story of Mimi's great grandmother….or Ashlyn's great-great grandmother):
Frederikke Claudina Ahlefeldt Laurvigan was born of 12 January, 1845, in the little town of Vennsel, about 35 miles from Copenhagen, Denmark. She was the daughter of Vilhelm Valdemar Ahlefeldt Laurvigan, a count in Danish Royalty, and Anna Maria Abrahamsen, a commoner. Vilhelm fell in love with Anna Maria, but because of the custom surrounding Danish Royalty, a count could not marry a commoner. His parents had chosen a girl of nobility for him to marry, but he refused to marry her. He was practically disowned. On the Danish birth records, Frederikke was recorded as the daughter of Jacob Severin Bolvig, a life long friend of the Count.
The Count was a wealthy man in his right and had most anything that money could buy at the time. He enjoyed sports of all kinds and especially loved to hunt with his beautiful horses and dogs that he kept for that purpose. Anna Maria and the Count never did live together. Their daughter, Frederikke, lived with her father in a home of luxury and comfort.
As the winters were very cold in Denmark, the servants didn't do much washing. They would spend weeks in the spring, washing and cleaning everything. Frederikke was very small for her age, and could easily pass for a girl of 9 when she was 13 years old. She went to the village school and was usually taken there by the servants in a carriage. One morning Frederikke and a girl friend were out walking and as they were going through the cemetery, she was kidnapped by her Mother and Stepfather and taken on board a vessel or ship, which was sailing for America. Her Mother had heard the Gospel from a humble Mormon Elder and she had joined the Church of Jesus Christ of Latter Day Saints and was coming to Utah. She couldn't bear to go so far away and leave her little girl in Denmark. The method she used seemed to only way of getting her. Her Father was heartbroken at the turn of events and went on board to try and get her back, but was unable to do so.
They were 13 weeks crossing the ocean in the sailing vessel and went through all the hardships you could expect on a trip like that. The family consisted of the Stepfather, Mr. Jacobsen, the Mother, Anna Maria, a half brother, Lawrey and half sisters, Minnie and Annie Jacobsen, and Frederikke. They came to Pleasant Grove, Utah in 1858. There they lived on a small farm where Frederikke's life was much different from what it had been in Denmark. Here she learned to do housework, weaving, knitting, and other sewing, besides helping with outside chores.
She had the chance to work for a family in Sanpete County. Her Mother paid a family who was already going there to take her with them. After the trip was started, they made Frederikke get out of the wagon and walk every step of the way. All she received to eat were the crusts left from their meal, which they threw to her like they would a dog. She could never talk of this incident without shedding tears. She worked for a Dr. Rogers. He had two wives and his first wife, Vinnie taught school and she hired Frederikke to do her part of the housework and take care of the children. Dr. Rogers was a hard master, stern and often cruel to his family, but he soon learned that although Frederikke's early training taught her to always be courteous and polite, and always bear the stamp of culture, still she was not afraid to stand up for her rights. While in Sanpete, she met a young man to whom she became engaged.
They were soon to be married and she decided to go home for a visit. Before she left, her young man did something that displeased her. While on her visit home, she met Charles Henry West and in three weeks they were married on 17th of August, 1867. "Marry in haste and repent at leisure", is an old saying, but if it was true in this case she gave no sign. She was always loyal and true to the man whom she had cast her lot. Imagine the surprise of the young man from Sanpete, when he came for her and found her to be the wife of another man.
They made their home in Pleasant Grove, Utah in the old Harry Wadley place. All of their 13 children were born in Pleasant Grove and Lindon. Their 5th child was born, Lester Gay on 2nd January, 1876. When he was 3 days old, he was not expected to live and so was given a name and a blessing by his grandfather, David West. Through the blessings of the Lord, he recovered. When he was just a few weeks old the family moved to String- town, later known as Lindon. See Lester Gay West history for what life was like for them. When Frederikke's father, Vilhelm was 85 years old, he wrote to her and her husband and all of the family and asked them to come back to Denmark and visit him. He told them he would send them all first class tickets with all expenses paid both by land and sea if she would come and stay with him the rest of his days. If she would, then she could have all that he owned and if she didn't, he wouldn't leave her a cent. Her husband refused to go and she didn't feel like undertaking the trip like that with a large family and without the help of her husband, so she missed this opportune- ity. Her Father, true to his word, left her nothing.
Of the 13 children born to Frederikke and Charles, only 5 lived long enough to marry and raise families. So many deaths were a great shock to her but she never lost her great faith in the gospel. She often mentioned her gratitude to her Mother for accepting the Gospel and bringing her up in the Church. She accepted many callings in the Church, especially in the Relief Society, where she was a counselor to Cordelia Thorne at the time of her death. After a 5 month illness, she died on 3 March, 1910.
Trevin, on the other hand, had his Pack Meeting.  He advanced to the rank of Webelos.  He also earned one activity badge for sports.  We have to sew the patch on his uniform but here is the mother's pin….  I'm one proud mama!