Lots of routine, mundane things happened today.  I got my oil changed in my van this morning, went grocery shopping,  exercised with Mimi, worked on SugarDoodle, cleaned the house and watched a movie with my kiddos.  There are only a couple more days before school starts and we're trying to enjoy every last minute together.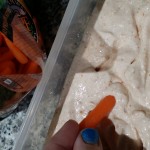 Andy, Jaron and Trevin went to Tae Kwon Do tonight.  Ashlyn, Emalee and Amelia had a sleep over tonight at my mom's house…a girls night out.  I'm sure they won't be sad they missed Tae Kwon Do.  Spending time with Amelia and Grandma Kluse trumps sports any day!
I also made an awesome veggie dip today.  You just mix 2 cups of cottage cheese in the blender with one Fiesta Ranch packet.  Yum!
I had to also include a picture of my computer screen.  If I ever leave my computer for a few minutes, I know Jaron has been there because my moniter will say, "I like trains."  Love him!