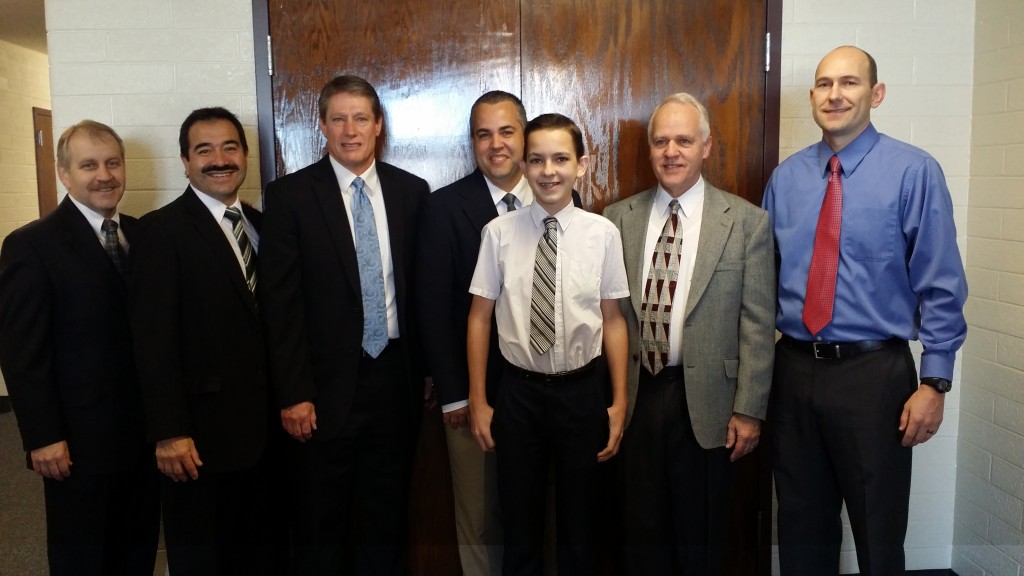 Today started off great….Jaron was ordained to the office of Teacher in the priesthood.  Those present in the circle are pictured here on the right.  (L to R: Darryl Oswald, Norm Nava, Rick Hanks, Andy, Jaron, Opi and my brother John.)  The bishop was out of town or he would have been in the circle as well.  Trent and Kristin would have liked to of come but couldn't get away.
Something I thought was cute….  After Jaron had been ordained, he shook the hands of the men who stood in the circle.  Then the bishopric suggested he hug his mom and grandma's.  While leaning in to give me a hug, he took the magnet that was hanging in the bishop's office (with his name on it) and moved it from Deacon to Teacher.  (see below)  Although they didn't spell his name right on the magnet, he was excited to graduate his name to a Teacher.
Emalee also said she couldn't wait to go to Jaron's "Coordination" (aka – "Ordination).  She wondered which class Jaron would now be teaching.  We had to explain that Jaron wasn't a "Teacher" (of a class per se) but rather, he would gain new responsibilities.  She was disappointed as she was secretly hoping Jaron was going to be her Primary teacher.
The rest of the day was quite calm and relaxing.  After church, I made a crock pot dinner, Andy gave Kai a (much needed) bath, we had our Family Home Evening for the week and we watched the Super Bowl together.