Emmy and I went to Zumba this morning at the church.  She really looks forward to seeing her friend Abby and playing with her while I exercise.  She asked me at least five or six times if she could have a play date with Abby while I exercised.  I told her we would talk after I was done.  Shortly after we started, Liberty and Spencer showed up.  Emmy had a blast playing with Spencer too.  She acts like his personal babysitter…lucky him.  When we were all done, and everyone started cleaning up, Lib told me that she is pregnant with her fourth child.  Yeah!!!  I am so excited for her and John.  She is due to deliver sometime in September.  Also before leaving, we set up a play date with Abby…Emalee is thrilled.  She's asked me for a play date with Abby week after week after week.
Today I was on my out the door to take Emalee to school and she was teary eyed.  I asked her what was wrong.  She replied, "Today is 100 days of school and I am suppose to bring 100 cheerios to school."  We were leaving for school five minutes early (thank goodness), so I grabbed a bag of chocolate chips (since I don't have Cheerios right now….I have Raisin Bran though…..)  Anyway, between the both of us, we counted out 100 chocolate chips and headed out the door.  We chatted back and forth on the way to school until I noticed in the rear view mirror that she was munching on the chocolate chips.  I asked her, "What are you doing?  You need 100 of those for school."  She didn't say anything but she put it in her backpack and on to school she went.
Later in the evening I was telling Andy about Emalee eating the chocolate chips and he stopped me and said, "That's really strange because yesterday I sent her to school with 100 pretzels."  I said, "Really?"  THEN….when I checked Emalee's backpack after school, there was a note from the school telling me that FRIDAY is 100's day and to send something on that day.  Too funny!!
Since today is Spencer's birthday (he turns FOUR today!!) we all went out to dinner together, sort of.  I dropped Andy, Emalee, Ashlyn and Trevin off at The Old Spaghetti Factory to meet with other family members.  Jaron had scouts (his first meeting in months…and he was really excited to go).  So he and I went home and got ready to leave.  I had my first Stake Primary Meeting…got set apart and learned more of my responsibilities.  Ready or not, here I come!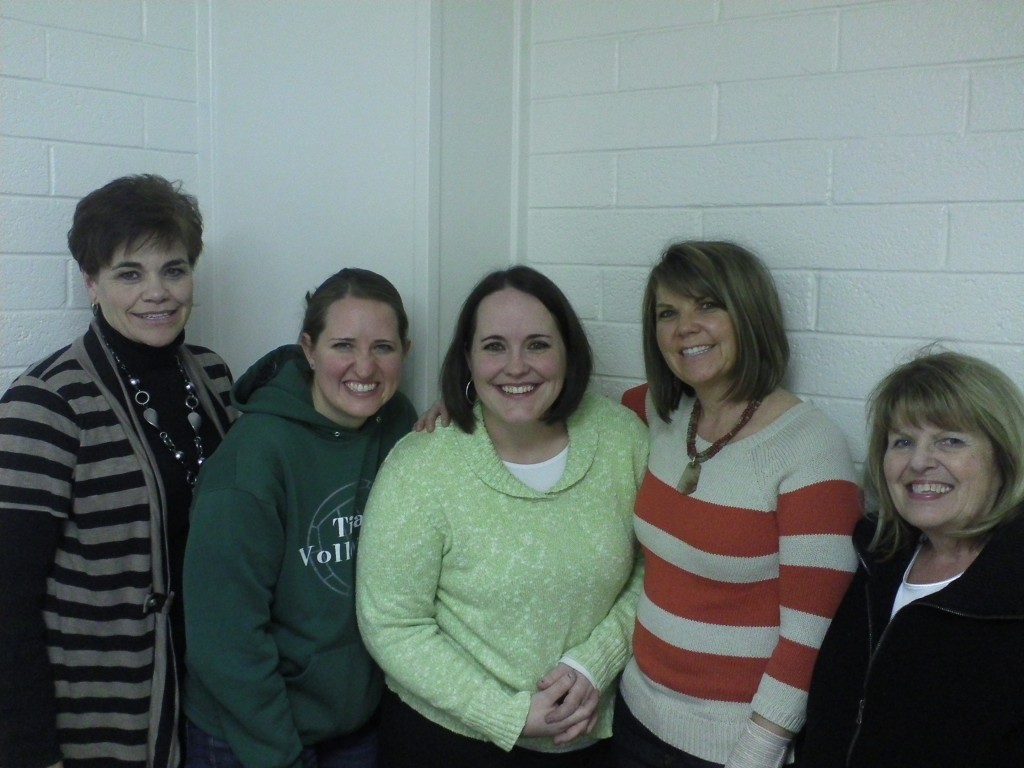 (L to R) Carol Sterzer (President), Carol Higginson (Secretary), Me (Music Director), Teri Hanks (2nd Counselor) and Linda Simper (1st Counselor)
Here is one picture of my mom giving Spencer part of his birthday present: